December 11, 2019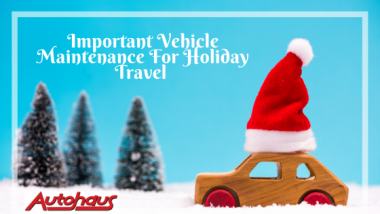 Can you feel that holiday magic in the air? Christmas is close at hand and will be here before we know it! Now is the time to get your family car ready for holiday travel. By doing some simple maintenance now, you can set yourself up for comfortable, worry-free driving this winter. Autohaus Import Service knows the importance of regular maintenance! We want all of our customers in the Raleigh, NC, area to be ready for their holiday travel, wherever it might take them! Here are some helpful maintenance points to consider on your Mercedes, Audi, BMW, or any other car:
Sluggish Batteries
If you've had a dead car battery before, you know how frustrating it can be! As your battery ages, it slowly begins to lose power. On top of that, chilly temps can make it harder for your battery to get your car started. If you're wondering if it's time for a battery replacement, or it seems like your vehicle is having a hard time starting, Autohaus Import Service in Raleigh can check your battery and help you decide if it's time for a new one!
Low Tire Pressure
Driving extensively on tires that have low pressure can be dangerous. Not only can low tire pressure create unsafe handling, but it also - whether you have a Jaguar, Mini Cooper, Porsche or some other vehicle, it makes your tires prone to a nasty blowout! Use a tire gauge to check your tire pressure before any major trips. While you are checking the pressure, take a look at your tire tread as well. If your tires' tread is wearing unevenly, you may need a tire balance. Autohaus Import Service can perform a tire balance on your Fiat, Volkswagon, Volvo or any other European, domestic or Asian vehicle to get you ready for the road!
Service Lights on the Dashboard
To make sure you don't have any unwanted surprises on your trip, you'll want to make sure you've looked into any potential issues that might not be obvious at first glance. You might know something is off if strange smells or noises are happening when you drive. Don't ignore a warning light, especially if it's coupled with unusual symptoms. Bring your car in to an ASE certified mechanic for a diagnostic check to help discover any issues that might be present.
Autohaus Import Service wants you to be safe on the road this holiday season! Our skilled staff specializes in maintaining and repairing import and domestic vehicles here in the Raleigh, NC, area. You can depend on us to keep your Honda, Subaru, Toyota, European, domestic and/or Asian vehicles running well! To schedule a pre-holiday maintenance visit, stop by or call us at (919) 925-5949.
Ready to schedule your service or repair?
Call Now